In true Kristin style, I'm coming to the "What I Ate Wednesday" party late. I am SO that person who comes to a party late and usually leaves early. Nice.
Before I get to my eats from yesterday, don't forget to leave a comment for my last post to be entered into the giveaway (and give me some advice).
Click here:
and… I'm upping the ante and adding a jar of PB2 to the mix. Why? Because I'm about to make a ginormous order because of this special.
You can just click on the picture to visit the Bell Plantation store.
Okay, so on to WIAW.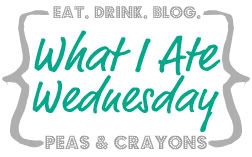 We were celebrating a special day yesterday. Joaquin slept all night WITHOUT this.
So I put on my party outfit (lounge wear, hope no one comes over unexpectedly)
And the boys looked pretty excited to party it up.
So we celebrated how we usually do here: with some green!
Breakfast was some Mean Green French Toast.
I topped theirs with some agave and mine, well……
Mine was a mess. I had to serve it up on my favorite plate
doctor it up with some PB2 and some sugar free jelly
and add an iced mocha on the side.
After breakfast Joaquin really wanted to prove how grown up he was with some good reading.
Out goes the binkie, in comes the US Weekly.
At least someone has time to read it.
Lunch was some of our favorite veggie burgers. Boys had theirs with light jarlsberg and a sandwich thin.
I had mine with some Marie Sharps hot sauce
and light jarlsberg. I used some lettuce leaves for a "bun".
The boys also had some more of their apple SunButter sandwiches to finish off their meal.
Meanwhile, I was saving up for this ginormous snack.
Some cinnamon crisps with a Flatout
to make some s'mores (yesterday was National S'mores day) with a Power Crunch Choklat bar (protein dark chocolate bar). Ate them with an apple and some yogurt with trail mix.
Um, yum.
Last night, after I got home from my spinning class I had a Flatout BBQ Chicken pizza (minus the cheese) and roasted zucchini.
With a side of low fat ranch dressing.
And finally, I had made a special stop on the way home from the gym for dessert.
I LOVE Golden Spoon!
That was my night last night.
Have a wonderful day! Don't forget to enter the giveaway by leaving a comment on yesterday's post.
I'll pick winners tomorrow morning! Have a wonderful day!