Well, random eats all day and more than one not so great experiment all thanks to these.
They don't look that big in this picture, but let me tell you, they are. Remember these zucchinis?
First, I need to mention my Bachelor Pad Party last night. My boy Ames, a frozen dinner, and my pajamas. I am one party animal.
I went for the Kashi Tuscan Veggie Bake with a Flatout cheese sandwich. Inside the sandwich was chicken breast meat, a laughing cow garlic and herb wedge and a Trader Joe's low fat string cheese.
The perfect party food.
Followed up with this.
Oops. I'm really not doing too well on my "staying in" challenge am I?
Today started out with Kitty's butt in my face. Got to LOVE waking up to that. Sorry, no picture, but I think I'm doing you a favor. he he!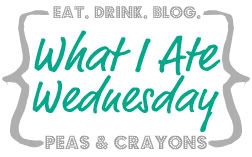 Breakfast was a green protein pancake
with some PB2 and sugar free syrup
and an iced mocha.
Breakfast for the boys was green scrambled eggs with a whole wheat Trader Joe's English muffin with jam.
All I did for the eggs was blend a handful of spinach leaves with the egg substitute before cooking microwaving.
After we got home from Strollerwise I realized that Judah was still in his pajama shirt. Awesome. Mother of the year yet again.
At home, they managed to tear the house apart while I shredded a butt load of zucchini.
Lunch was an experiment that I wasn't too impressed with, but had been wanting to try it for awhile .
I put some monterey jack cheese, some Cuban style black beans and half a plantain in a Flatout.
Cooked it in my handy dandy sandwich maker so I had this cute little thing.
It was good. The flavors were a little weird together, but I'd definitely eat it again. The boys even ate theirs (Joaquin ate the cheese while Judah ate all the beans).
Then we each had a freshly made zucchini muffin. And let me tell you, it was NOT the best idea to bake in the middle of the day during summer. Silly me. (I'll post the recipe tomorrow after I revise it. It was my first attempt ever making zucchini muffins and I need to do a little tweaking.)
I managed to escape for a little bit this afternoon to go to a meeting.What do you know, my meeting was across the street from Old Navy. I decided to stop to spend a gift card I've had since my January birthday LAST year. Ha! Here's what I got for $70.
This was my favorite purchase.
I hope Andrew appreciates them.
After I worked up an appetite shopping and doing an "I'm Free" dance in the car by myself, our late afternoon snack back at home was some almond cookie dough dip (subbed in half almond butter and half applesauce for PB2 and peanut butter in peanut butter cookie dough dip) with Flatout cinnamon crisps and an apple.
Dinner for the boys, well, it got a little crazy (and messy). It started innocently enough with some cooked carrots, but got out of control. These guys were hungry. It was kind of a blur, but I'm pretty sure they consumed carrots, leftover pizza, a veggie corndog from Trader Joes, a banana and some Greek yogurt. Holy moly. Here's a look for your entertainment (and so you can be thankful you don't have to eat with us).
Yes, that's a piece of carrot on his head. This guys is one of a kind.
and so is this one.
Yep. At some point he traded the carrot for the spoon.
We all got a little loopy towards the end of dinner.
I probably shouldn't teach them these things.
I did NOT teach him that (or the carrot/spoon on his head).
Who wants to come over for dinner?
I didn't get on the treadmill until 8:30. Ugh. Sometimes it's so hard to get motivated that late at night, but I ran my 6 miles and am hopefully ready for the race this weekend.
For my dinner I tried to make a zucchini BBQ Chicken Pizza minus the cheese (since there was an abundance of shredded zucchini).
I had high hopes for it. It was good, but not great. The "crust" needs a little more crunch. Another thing I have to tweak a bit I guess.
Maybe it's the ginormous zucchini's fault. Ha!
Dessert was a Skinny Cow chocolate truffle bar. Sorry no picture. I was busy typing.
Okay, bed time! See you tomorrow!