I missed out on the party last week. Who knows what happened. But, I will NOT let that happen two weeks in a row and since my Looking Back post was a little on the serious side, I know we could darn well use some light-heartedness today.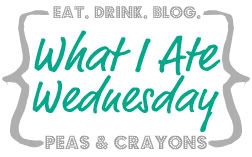 I know just how to start things off.
Buh Bye Jake.
Hello amazing dinner of Cheesy Wild Bread STUFT Style made with Trader Joe's wheat pizza dough.
What? You want a closer look?
Ha ha ha! Nice paint job though right? I had to paint my nails the other day after I confused Andrew's man hand with my own back in this post.
Oh, that's right. This is a FOOD party.
Yum!!!
Breakfast yesterday was a new Vitabun by Vitalicious topped with PB2 and sugar free jam with an iced mocha on the side since I made a million espresso cubes this past weekend).
And speaking of Vitalicious. Look at this.
Who is that Stuft Mama gal? Ha ha! We love you Vitalicious (and you new buns)!
The boys got some Mean Green French toast from the freezer.
And this guy, well he got his normal Friskies.
And he was NOT impressed with Joaquin's new trick.
Or Judah's attempt to eat and sing at the same time.
(I really need to clean those high chairs.)
Lunch was this wrap.
A Flatout wrap with some jalapeño yogurt dip, light jarlsberg, fresh roasted turkey, a jalapeño, tomato, onion, romaine and spinach. It looked like this to start.
What can I say, I have skill.
Afternoon smoothie for the boys.
CBC Smoothie
In the mix-
1/2 frozen banana
1/2 cup frozen cherries
handful of baby carrots
1 cup of vanilla soy milk
And….. want to play the what can Joaquin do while making a smoothie game?
Somehow he found his way to our bedroom and the remote.
Then he found a new toy. Guess where he got it?
(We are going to use every last square of that toilet paper from the floor because this is not the first time it's happened and I refuse to waste any more TP.)
Thank goodness the Magic Bullet blends everything in only 20 seconds.
My afternoon snack was a Put Me in Coach Oatmeal Cookie with a new light version of Oh Fudge that I'm obsessed with.
I had a boring dinner last night after I finished my treadmill run at 9:45pm.
But I DID enjoy some Golden Spoon that Andrew brought home for me afterwards.
Okay, I better get a move on. Have a fabulous Wednesday! I have a special post devoted to my new fudge obsession planned for later tonight. My pictures didn't turn out too well yesterday so I have to try again today. Oh well, I guess I have to make some more fudge. He he!
Have a great day and THANK YOU so much for your WONDERFUL comments on my last post. You all inspire me!
Questions of the day:
Where were you 10 years ago?