Good afternoon!
I'm trying to make it in time for the WIAW party!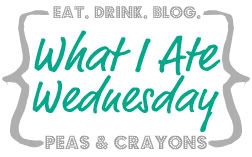 In no particular order (since we've been eating a lot of fun stuff around here and I don't want to get too chatty about our daily happenings) here are some yummy eats we've been enjoying.
Breakfasts:
Green scrambled eggs (1/2 cup egg substitute blended with a handful of spinach) with a Zucchini Flaxseed Muffin with Creamalicious Frosting.
Some mini donuts (that just happen to be green) with some more "frosting".
I used the Mighty Green Microwave Muffin recipe and just put them in this cool little mini donut maker.
So fun to eat!
Lunch:
The Ultimate Flatout Turkey Wrap
turkey breast
light jarlsberg cheese
tomato
onion
jalapeño
romaine lettuce
Meatless Manwich (actually a "Toddlerwich")
veggie soy crumbles (I used the Morningstar brand)
light jarlsberg cheese
I assembled the sandwich and then put in on the stove for a few minute until the cheese melts.
Snack:
SBapple Sandwiches
1 apple peeled and cored
1-2 tablespoons SunButter
Some of them were plain. Some of them (which may or may not have been mine) had a little Trader Joe's Organic Trek Mix in the middle.
Dinner:
Whole wheat penne mixed with cooked broccoli slaw, tomato, zucchini, chicken, a little olive oil, Italian seasoning and parmesan cheese. (This was from last week since we've been out of broccoli slaw for a few days. Dang you Trader Joe's.)
Which picture do you think was mine? Ha!
Last night was this frozen entrée from Trader Joe's (that had been sitting in my freezer for months).
It was pretty good. I'm not sure how excited I am to buy it again, but it was tasty. It even had a little map (like chocolate candy boxes). I guess it gets extra points for that.
The boys ate Trader Joe's chicken pot pie. I forgot to take a picture of the box, but they loved it. (Yes, I know it's not the healthiest thing, but I needed something quick and easy.)
Just in case you want a peak at our dinner last night. We had it all.
Good company.
Some good reading (that was never touched).
Great view.
He he!
And now since I'm sure you still have your appetite, back to food.
Dessert:
Sarah's Sneaky Chocolate Pudding that was not blended very well since I did it by hand during naptime. It still tasted fabulous though. I froze it a little in hopes that it would be less messy.
Hmmmmm…….
After my treadmill run last night I treated myself to a big boal of Coach's Cooked Cold Oats (made with PB2) topped with a little Naturally More and a crumbled Vitamuffin. It was DELICIOUS and enjoyed while on the computer!
Hope you make a little time today to enjoy some inspirational reading.
In honor of the Biggest Loser starting up again and feeling a little lost without Jillian on the show this season, check out this truly inspiring interview she did with Rita Wilson for Everyday Health.
Jillian Michaels Interviews … Rita Wilson: Exciting New Challenges
I just finished reading it and I'm even more motivated to follow my dreams, be bold and believe in myself. It just goes to show you that things don't really come easy for anyone, but if your passionate about something and you're willing to put in the hard work you can achieve your goals.
Oh, and don't forget to relax a little bit too. (I'm reminded myself also.)
See you tomorrow! I have a yummy recipe coming your way!