I DID just get my hair done yesterday to touch up my highlights (and get a much needed trim), but that's not what this post is about.
Side note- I decided not to get my lip waxed this time though. I don't want to take any chances in case I see "my boyfriend" again soon and all.
Let's talk about a few eats in honor of What I Ate Wednesday.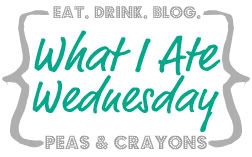 I'll spare you yet another picture of the same dinner I've eaten the past 3 nights. I will, however, tell you that I'll still be smelling like a chili pepper tomorrow. And due to a slight sprinkling mishap, I'll also be sporting a nice garlic scent as well. Lovely.
I declared today "mommy day". Things have been so busy around here that I just wanted to spend some quality time with the boys (and make a dent in the piles of laundry).
It started with microwave versions of the Fall Apple Bake (with added apple chunks from the party).
And a little bit of a mess. Go figure.
I served them up with Cherry Pomegranate FAGE 0% and some Naturally More Peanut Butter.
And got to enjoy chug my first second favorite morning mocha of the season.
These guys had to copy me with the whole muffin and yogurt combo.
While a certain Kitty waited for some bowls to lick.
(He really needs another bath.)
Breakfast is my favorite.
I also got some fun things in the mail today.
1. A sample of the new Peppermint Clif Bar flavor.
2. A video for the Les Mills RPM instructor training. (I'm going next weekend.)
3. Most importantly, some donations for our race we're running for Amelia. They made my day and will hopefully make the gift of hearing possible for an amazing young girl. I'll be sending a special "thank you" your way!
Speaking of our race, while out and about today we tried to convince Staples to donate some color copies of our flyer I made.
I even had the boys trying to work their magic in the cart (and had just enough time to upload a picture to my Facebook page before things got a little iffy).
Their "magic" didn't work. It might have something to do with the fact that their "magic" did not keep their hands inside the cart.
Oh well, at least I got a little discount.
Back at the STUFT pad, lunch was some Trader Joe's veggie corndogs and Sbapple sandwiches for the boys.
I had some kale chips and roasted tempeh (I just baked everything together) and drizzled some jalapeño yogurt dip on top.
I impressed myself with how healthy it looked.
I did NOT impress myself by trying to eat kale chips with a fork. I don't recommend trying it.
I also did NOT impress myself by signing up for two more races (Carlsbad Marathon and Hot Chocolate 15K) during naptime.
What was I thinking?
I SHOULD have been folding the laundry.
And, well….
I'm not going to be very impressive right now either because I'm too tired to write out the "highlight" recipe I wanted to share.
Oh well. Now I know what I'll be posting about tomorrow.
For now though, it's bedtime.
One really great highlight of our day………
lots and lots of hugs!
Can you guess where we're going tomorrow?
Or who might try to tag along?