Well, actually, the STUFT family is notorious for showing up late to a party, causing a commotion and then leaving early.
Maybe that's why we haven't been invited to any parties recently.
Hmm…
Luckily this party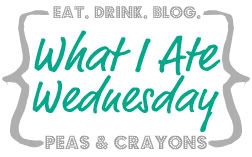 is an open invitation. Thanks Jenn!
Here's just a recap of some "partying food" we've been munching on over here the past few days.
I'm going for lots of food and less talk in this post. Let's see how I do.
STUFT Daddy was out of town the other night. He was driving some special birds to the Phoenix Zoo. I found myself a little lonely and tired after my classes at the Y, so naturally I partied like this.
Pajamas, my favorite wine and a spaghetti squash bake in the toaster oven.
In the bake: spaghetti squash, broccoli, 1 cup marinara sauce, chicken breast, a jalapeño, garlic salt, red pepper, Italian seasoning, dried oregano and crushed red pepper.
Baked at 375 for about 20-25 minutes.
I ate it all while watching this.
Dessert was a little combination.
170 calories of pure yumminess.
The party continued the next day with a new smoothie.
Frozen Strawberry Cocoa Protein Mocha
1/2-1 cup nonfat Greek yogurt
1 cup frozen strawberries
handful fresh spinach
1 serving vanilla protein powder
1 packet sugar free hot cocoa
1/2-1 tablespoon instant espresso
1 cup unsweetened nondairy milk
The perfect thick start to my morning.
After a trip to Trader Joe's, lunch was whatever I could do quickly.
I microwaved one of these chicken quesadillas for the boys.
While I tried a new treat with my veggie burger Flatout wrap.
Inside the wrap: Morningstar Veggie Burger, jalapeño yogurt dip, romaine and a jalapeño.
The wasabi roasted seaweed snack was pretty darn impressive (especially for 60 calories for the whole bag).
I didn't even get to hoard the whole bag though. Someone else wanted a piece.
Nice clean shirt and face huh?
And he kept asking for more!!! That's my boy! Proud mommy moment of the day!
Sorry. No pictures of Judah. He wasn't digging the seaweed snacks.
Naptime came and my partying continued.
What? You don't do that?
My afternoon snack was a "Nack" Apple Cinnamon Oatmeal Cookie (with a little PB2 and Naturally More peanut butter) and a homemade mocha.
If only naptime was a little longer……
When STUFT daddy got home later that night we decided to go out to dinner to celebrate. He'd been gone a whole 36 hours. That's a LONG time for us.
We headed out to Macaroni Grill.
Nothing too impressive. I got the Pollo Caprese. It was okay.
All in all we weren't that excited about the dinner. We really weren't that excited about the $80 bill either. What were we thinking?
Oh yeah, we were celebrating Andrew being back home.
Back at the STUFT pad the party REALLY got started.
You're silly. Get your mind out of the gutter.
Yeah, one of these Trader Joe's S'mores gelato sandwiches and a very early bedtime.
It was marvelous! I even stood up "my boyfriend" and skipped out on the Biggest Loser.
The party officially continued today when I got this package.
This Vitalicious fan of the month
Scored a free Super Sampler Pack! Yippee!!
Thank you Vitalicious. Thank you Facebook.
And…. the party finally ended with a bang tonight after my spin class.
I was back to my usual broccoli slaw spaghetti with this soup (from Costco) in place of the marinara.
This is my new favorite dinner (in case you haven't noticed) complete with cheese sandwiches.
What did you THINK I was watching?
I had to make up for last night. Look, he's thinking about me.
And, um, I don't know about you, but
I really wouldn't mind working out with this guy either.
Ha ha!
See you tomorrow!
I have a very special raffle to announce to help Amelia in addition to our race for Amelia.
Yay!