Yes, yes I do.
Don't get excited.
There's no way I'm sharing "my boyfriend" (even though I share him with 467,260 people on Facebook).
I did do a little treadmill run with him on the TV and then turned him off early to write this post though. See how important you are? Don't tell me who got kicked off the Biggest Loser tonight. I'll have to catch up tomorrow. And by the way……this guy should really be missing me by now. I don't know what's up, but he keeps cancelling our next "date".
First I have a little What I Ate Wednesday action.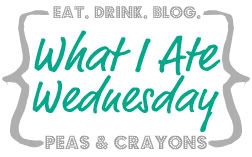 Nothing too exciting, but its been a couple days since there's been some green on here.
Ha ha! This morning's mighty green microwave muffin had a new "frosting" on it made with fat free cream cheese, a sugar free packet of hot cocoa powder, a little coconut flour and some almond milk. It was accompanied by my new green tea/espresso latte (made with 1/2 soy milk and half unsweetened almond milk).
Lunch was a Flatout wrap with light havarti cheese, chicken breast, jalapeño yogurt dip, Scotty B's Arch Nemesis hot sauce and some romaine.
I was a snack monster this afternoon and ate my way through a KIND dark chocolate cherry cashew bar, an apple, and another Flatout I made into cinnamon crisps and topped with SunButter. None of them pictured because Joaquin was motor boating my inner thighs with his snotty nose at the time. Nice visual huh? It looked a lot like this.
I bet you can't guess what dinner was.
Ha ha ha! I got really lazy tonight and didn't even cook my broccoli slaw spaghetti on the stove like usual.
I microwaved it in the bag for a couple minutes and then put it in a dish, topped it with some marinara, fresh mushrooms and spices and threw it in the oven at 400 for about 15 minutes or so. That little cheese sandwich was the bomb though.
I realized this morning that we didn't have any more "seasonal" smelling hand soap. That was NOT okay with me. I can't handle it when the smells around the house don't go with the season.
So the boys and I had to make an emergency trip after Strollerwise today.
Judah helped me carry…
er….. drag the bag inside
while Joaquin attempted to break my new pumpkin spice wallflower.
He did NOT succeed. Thank goodness.
I'd say we stocked up pretty well for the next few months, wouldn't you?
Now I have to get out all my winter smelling lotions.
Okay, so now onto what I have for YOU!
I'm so excited to tell you that the wonderful people over at Flatout have not only sponsored us in our race for Amelia, but they're giving me coupons to send out to everyone who donates for our race.
How cool is that?
And that's not all.
Our SunButter friends are also giving me coupons to send out to everyone who donates.
And…. they're also giving me 10 coupons for a free jar to raffle off.
Isn't that fabulous?
In addition to the coupons I also had a special "flat" friend make a little something that will be in the "thank you" as well.
And…. I'm randomly choosing 3 winners to get a homemade batch of Peanut Butter Doughtzel Balls.
So many things for you all!
Yippee!
It's not too late to get in on the fun and donate to a good cause!
Any little bit you could donate to Amelia's Hope For Hearing would be greatly appreciated!
You can get all the details on my Running For Amelia Page or you can email me with any questions.
Feel free to share and/or tweet this too! We only have a few days until the race!!!! Ahhh!!!!
See you tomorrow with a berry kale smoothie recipe and a little workout action!