Happy Wednesday friends! I just have to start out this post by saying that sleep is marvelous!
Since the Silver Strand Half Marathon for Amazing Amelia we've been eating lots of good stuff and resting. (You know, since everyone else who didn't push the double stroller 13.1 miles was exhausted).
So I'll make this quick and catch up with some good eats for a little What I Ate Wednesday action.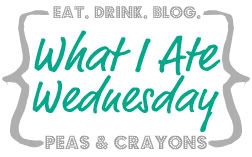 The rest of the day after the big race looked a little like this.
Egg white scramble with Trader Joe's Organic Tempeh and spinach. Topped with some jalapeño yogurt dip and a little Scotty B's Arch Nemesis (I had to catch up on my hot sauce intake since I steered clear of it the day before the race- which was a very good call.)
Then I dove into some of this healthy cookie dough dip made with PB2.
I took it up a notch and added a Baker's semi-sweet chocolate square and a tablespoon of SunButter.
I had it with some Flatout cinnamon crisps and apple slices. I had to make sure I was consuming products from both of our sponsors (Flatout and SunButter) for the race. Good excuse, yes?
Then that night we really celebrated.
The boys first with some leftover whole wheat spaghetti and broccoli. Lucky them.
Lucky me for remembering to take off their white shirts before dinner.
They got the rest of the cookie dough dip for dessert. They deserved it. They worked hard that morning.
After the boys went to bed the party really started.
I got into my favorite Ménage a Trois wine while STUFT Daddy went to get us some Filippi's pizza.
Then was sat our butts on the couch for our dinner.
Antipasto salad (mine without the meat) and vegetarian pizza.
I thought I'd dress up for the special occasion in my pajamas and slippers.
We watched some quality TV.
Oh man, I'm embarrassed I just put that on there.
Obviously the show wasn't that exciting.
Yes, he's sleeping. Fun date night, huh? He was exhausted from the race remember? Ha!
So, Andrew slept and I finished that little bit of wine he had in his glass, changed the channel (to some Kendra- not much better) and ate one of these Vitalicous S'mores.
I may or may not have also had a leftover Reese's Peanut Butter cup (leftover from our uneventful Halloween).
Okay, that's it for today. I have to spend time with my main little men and get to work on a little guest post I'm doing for SunButter, work on your Thank You cards from your Running for Amelia donations and tackle my pile of STUFT Fitness business tasks that have been seriously neglected. Do you think I can get all that done during naptime? Ha! It never ends……
See you tomorrow! Have a great day!
Don't forget to enter the
Lollihop giveaway
!