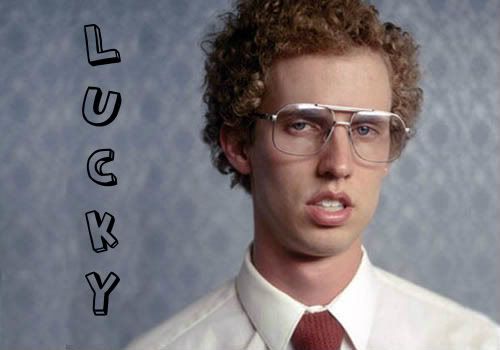 Ha ha ha!
Please tell me you've seen this movie.
My day today started with a little 150 calorie Vitamuffin breakfast.
LUCKY.
That led to a pretty hearty lunch which was a big bowl of overnight oats with some of Trader Joe's frozen cherry berry blend and a scoop of Trader Joe's Almond Butter with Flax.
That was one ginormous bowl of oats.
LUCKY.
Another little thing happened today. We got a little (and I mean little) shout out in the local paper about our half marathon for Amelia.
I don't know about that "self-described" healthy living blogger comment at the beginning. Hmm….
Oh well. At least Amelia got another little mention and all my efforts to get us in the paper last week paid off a little bit.
LUCKY.
And yes, as it states in that short article, my next race is the Carlsbad full marathon in January. In fact, I have quite a few races coming up the next couple of months.
1/22/12- Carlsbad Marathon
2/12/12- San Dieguito Half Marathon
3/11/12- San Diego Half Marathon at PETCO Park
3/25/12- Hot Chocolate 15K San Diego
I know exactly what you're thinking.
LUCKY.
Tonight though, I was not lucky.
But…. I thought that might make you feel lucky because you wouldn't have to see another picture of broccoli slaw spaghetti yet again.
Unfortunately for you, I made due by just roasting some broccoli with marinara and some chicken and served it up with some cheese sandwiches.
I just can't help myself.
My dessert was a fabulous one though. Look at this little masterpiece.
Oh yes. It's a little project I'm working on for SunButter. And it is one delicious little project I might add.
I know.
LUCKY.
One not so lucky guy.
Sorry Flat Kitty. He got no love this week. Oh well. Maybe I'll redeem myself over the weekend, but I'm not making any promises.
But now, my friends, YOU are the LUCKY ones.
Why?
Well, because STUFT Daddy starts another staycation tomorrow. (Even though it seems like we just had our San Di-ago overnight.)
And you know what staycations make us want to do.
They make us want to DANCE!
Soo….. here are some very short little videos for your Friday entertainment.
LUCKY.
First up is Joaquin's Interpretive Strollerwise Workout which includes some walking lunges, frog jumps and an attempt at some dips.
Second is a new move Judah came up with that just might take over the dancing world. I'm calling it the "What the Heck is Up With my Hand" dance. If you have a better suggestion for what to call it, please let me know. It's late and that's all I could come up with.
Lastly, we have the best one. All the best moves together in less than 40 seconds. The Robot, the Sprinkler and a little Toot action about 18 seconds in. (He must have learned that at Mom and Toot Camp).
What can I say friends?
Your welcome.
Reminder:
There's still time to enter the Lollihop giveaway!
PS- I'm really hoping I win some Chobani yogurt from Lindsay's List.
Have a great day!
LUCKY.