Good morning! Before I get to some eating action I better announce the winner of the signed Bob workout DVD.
Thanks to random.org the winner is…. Jessica!
Yay!!! I'm so stinking excited for you! And you better believe a Flat Kitty is coming along with the DVD. Since I see you at boot camp every Saturday I'll just bring them with me this week.
Now on to some eats. I got some requests to see what I eat throughout the day and while it's a little overwhelming to take pictures of every single thing (I don't know how some of those bloggers do it) I thought I'd try to do it every Wednesday for little party my friend Jenn hosts every week.
Hey look, it's a special one today!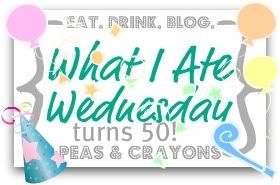 Here's a little peak at my day yesterday.
Breakfast
I posted a before picture on Twitter during one of our chia chats.
It ended up looking a bit like this though. Here's a recycled picture for you.
It was the same exact thing I put together for New Year's Eve breakfast (chia berry jam, Kashi Go Lean vanilla oatmeal packet, 1/2 cup nonfat Greek yogurt and tablespoon of SunButter). It was also accompanied by a sugar free gingerbread latte (made with unsweetened vanilla almond milk).
Lunch
I made those same chicken and spinach enchiladas I posted about yesterday, but downsized them a bit (less jalapeño yogurt dip and less soup) and subbed in two Flatout wraps instead of the corn tortillas then doctored them up a bit with some chopped romaine and salsa.
I like them much better the original way with corn tortillas. I love Flatouts, but not so much for these enchiladas.
I even made a toddler friendly version in form of quesadillas for the boys.
Snack
During naptime I scarfed down an apple with some Naturally More.
Then around 5:15 pm STUFT Daddy (my hero) took the boys to Tutu's house for dinner so I could tackle some organizing projects around the house. I made myself a dark chocolate peppermint mocha for the occasion.
Who is that peeking out over my head? You know you want one!
I usually don't drink caffeine that late, but I had to get a little help to brave this
and then this.
I got my run in while all my boys were away and watched this movie.
Thank you Bad Teacher for 10 miles.
Dinner
I spent my quiet time after the boys were in bed with my ever so original broccoli slaw spaghetti minus the chicken (with some mushrooms and olives) and cheese sandwiches.
I was really proud of my two little garlic nuggets made with a Flat Foldit (inside the Foldit was a Laughing Cow light Garlic and Herb cheese wedge, some garlic powder and some parmesan) in my sandwich maker (that thing never gets old).
The other cheese sandwich was with a slice of Trader Joe's light Muenster, Target brand light string cheese and a Babybel light cheese.
Yes, I used that "clean" paper towel as my napkin for dinner. He he!
I enjoyed my dinner while watching "my boyfriend" on the new season of the Biggest Loser.
Um… I'm over here!!!!!!
He was totally looking for me don't you think?
Dessert was a Skinny Cow chocolate truffle bar.
I cut the show off early to hit the sack since I'm working on getting more sleep this year and all.
Phew. That was a lot. I definitely could not write down all my eats every day. It's too hard on my brain.
It is a really good idea though to use a food journal if you're trying to lose weight. It really helps you realize just how much you eat. I used to use one and loved it. It's just a lot of work.
Okay, I'm off to get some breakfast and tackle some hills with the stroller today.
Have a wonderful day!