Oh yes, dessert lately is right. I've pretty much had this same dessert for seven days straight now and I don't see anything changing in the near future. Well, except for Sunday after the Carlsbad Marathon. I may just have to splurge a little then. He he!
This is supposed to be my What I Ate Wednesday post for my friend Jenn's link up party she hosts every week. It was about 9:00pm last night when I sat down with the exact same dinner as last night (yes, those same enchiladas) that I realized the only two pictures I took all day of food were this one I posted on Facebook of my massive bowl of cold oats (my go to oatmeal bowl cold), chia berry jam and SunButter.
and this one of my afternoon STUFT Salted Caramel Mocha.
Oopsies.
But…… I'm going to invite myself to the party anyway because I have been eating a heck of a lot of this low calorie, low fat, dark rich chocolate, peanut buttery fudge.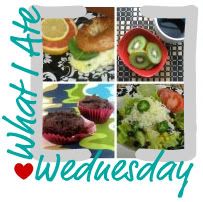 My friend Sarena told me about this amazing fudge frosting she's been making at her house. She even wrote a post on it today along with a delicious sounding peanut butter oat cake that I "pinned" on Pinterest.
Her little fudge creation inspired me to come up with this little beauty. It's different from my other fudge recipes (Oh Fudge and Chocolate Fudge Pie) because it doesn't have the coconut butter and saves about 100 or so calories.
Three Ingredient Dark Chocolate Peanut Buttery Fudge
serves one mama (trying to watch her sugar intake before a big race)
1/2 ripe banana, fresh or frozen (Thaw a little if frozen)
2 tablespoons PB2 (12 grams)
2 tablespoons dark chocolate cocoa powder (10 grams)
Directions:
Mix the ingredients together with a fork or in a Magic Bullet.
Pour into a bowl or dish. Refrigerate or freeze. (If you can wait that long, if not, eat as is).
That all!
You get about 130 calories of this rich goodness.
Best dessert ever!
Not only is it the best because it's easy and low in calories, but the possibilities (preparation and consumption) are endless.
The necessary ingredients stay the same. A half of a banana (you can even use a whole one if you're really feeling like it) and these two amazing products.
I get my favorite cocoa powder on Amazon (just click on the link) and I order PB2 online from Bell Plantation.
Ready for all the possibilities?
First of all you can use a fresh banana or a frozen one. Whatever you happen to have on hand.
If I use a frozen one I usually microwave it a little first so it's easier to blend.
You can measure the ingredients with a tablespoon or just use a small kitchen scale like this one I bought on Amazon (I use it all the time).
Then you can use a blender or food processor (I use my Magic Bullet– which is on sale at Costco until the end of the month for $35).
Or if you're pressed for time (or don't want to do extra dishes which is usually the case for me), you can just mix it all with a fork.
It's not as pretty, but when you taste it you really won't care.
From here you can eat as is, refrigerate and eat as a pudding, use as a frosting or freeze it.
My favorite way is to freeze it for a couple hours
and then eat it with my cool tea spoon.
Last night I even topped it with a crumbled chocolate Vitamuffin.
Um, yeah.
If you want to impress some people (or try to take some cool pictures) you can pour it in a cute little tart dish
press it down with wax paper
freeze it for at least a couple of hours and then pop it out to make a small fudge pie.
You can even cut it into pieces so it's like a frozen dark chocolate candy bar.
Be careful if you do that though because it melts pretty quickly.
Okay, have you seen enough of this fudge?
Me either. Here's one more.
Ha ha ha!
Now go make this and tell me what you think.
I'm off to get ready for another "date".
If I'm missing in action for the next day or so it's only because I'm resting and trying to be smart about getting sleep before my marathon this weekend.
I'll still be on Facebook and Twitter with some "club" updates with "my boyfriend" though.
Hmm…. what to ask him today……
Email me your Flat Kitty pantry pictures and/or anything you want to share for Friday's post.
PS- I have a fun giveaway coming up soon that I'm super excited about! Yay!
Have a good one!