This is going to be a little What I Ate Wednesday kind of a post. Because, well, I took a load of food pictures yesterday for no reason, I have about 10 minutes before the boys are going to be walking down the hall screaming "Mommy where are you" and I revisited that cauliflower crust again last night and decided it was worth sharing.
Ready?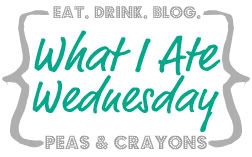 Breakfast yesterday was a version of
green
hooligan pancakes
. The boys had a gluten free version following
this recipe
(I subbed in
this gluten free pancake mix
).
I made myself a hefty batch with a combination of a couple of flours.
I followed my original hooligan pancake recipe and directions, but changed up the flours just a bit.
Mama's Green Hooligans
1/4 cup whole wheat flour
2 tablespoons coconut flour
1/2 cup egg substitute
1/2 cup unsweetened vanilla almond milk
pinch of salt
cinnamon
splash of vanilla
1 sweetener packet
1 tablespoon light margarine (for melting in the dish)
I topped them with sugar free maple syrup and some berries.
After a treadmill run at the gym
(I like to schedule my gym runs so I can watch Access Hollywood and That 70's Show.)
lunch was shoveled in my face in about 2 minutes.
Dumb picture. I was inhaling it at the time. In the wrap- a Soft and Delicious Wrap (only because we were out of Flatouts) with Costco shredded chicken, a jalapeño, broccoli slaw romaine, Cholula and Frank's Hot Buffalo Wing Sauce.
My afternoon snack sent from heaven was fudgy STUFT protein cookie dough with a scoop of a new peanut butter I'm trying out.
You'll be hearing a lot about that peanut butter soon (an awesome giveaway is in the works).
So…. dinner. Last week after a long twitter conversation about cauliflower crust, some help from my friend Heather and a recipe from STUFT reader Amity (thank you for all your emails), I experimented at home.
I did the same experiment last night. Now I know there are a lot of great recipes out there (like this one and this one), but all of them have cheese. I'm convinced the cheese must help hold it together, but with my new dairy free life and all I had to make some substitutions. I'm not going to pretend it's some great creation (although I kind of think it is). It's a bit crumbly.
But…..
if you're looking for something low calorie, low carb, high protein, dairy free and ginormous that makes you feel like you're indulging in a huge pizza crust, well, this is for you.
(Disclaimer- Yes, I know I really should stop pretending to be a food blogger/photographer. These pictures are not that great and cauliflower is not pretty, but you'll get the idea.)
Yummy, Crumbly Cauliflower Pizza Crust
1 medium head of cauliflower
1 serving tempeh (I used 1/2 package of Trader Joe's Organic Tempeh)
1/3 cup egg substitute
1 tablespoon nutritional yeast
seasonings: garlic salt, garlic powder, Italian seasoning, dried oregano, dried basil, crushed red pepper
Directions:
Clean and cut cauliflower. Shred to make cauliflower "rice" (I used my food processor.)
Microwave "rice" for 8 minutes.
Add in all other ingredients.
Spray foil lined cookie sheet with nonstick cooking spray. Form into small "crusts" or one big one on cookie sheet.
Bake at 450 for 15 minutes.
Admire your huge crumbly masterpiece.
Attempt to cut in pieces and serve without it totally falling apart.
Serve with a side of marinara.
Grab a fork, prop up your feet, watch a little Bethenny and dig in.
I ate the entire head of cauliflower. Yes, yes I did. I then proceeded to make this ice cream again (for the fourth night in a row) and put it on top of a Banana Chocolate Chip Vitatop.
Yeah, that huge bowl of dessert is less than 200 calories.
I am a volume eating champion. Ha ha.
I'm into sprinkles all of a sudden too lately. Weird. I should probably buy some that didn't expire in 2010. Oops.
Okay, we're hoping to make a workout video today. Woot woot. Let's hope these guys are excited as I am.
Have a great day!
Do you all get stuck on a certain dessert (or breakfast or snack) that you have to eat every single day or night for like 2 weeks?