Our schedules have changed a bit over here lately with the whole "escaping" thing, my extra miles I'm trying to log for the Rock 'n' Roll San Diego marathon coming up and my attempt to get more sleep.
A couple of months ago I would eat dinner at 10 pm and then get on the computer to do work/blog stuff for 3 or so hours and climb into bed exhausted and flustered around 1:30ish (sometimes 3 am).
Not good.
I've traded in my late night computer dates for some extra sleep on my Technogel pillow. I've also been waking up earlier to get whatever I can get done before the boys wake up and what doesn't get done, well, just doesn't get done. Somehow my mocha always gets made first though. I like to get things moving in the morning (in more ways than one).
Once these boys are up my hands are full and I better be on.
I'm pretty sure positive my blog posts have suffered (as has my ability to reply to emails in a timely manner), but I feel better physically and I'm a bit of a nicer person to be around. Right STUFT Daddy?
Why yes.
It only took three pictures to get an acceptable one. Oh, the advantages of a blog and only posting what you want.
Tip of the day- get more sleep. Your body and mind need it.
With that, let's see what I can bore you with today, shall we?
I'll try to get in on a little What I Ate Wednesday action with yesterday's eats.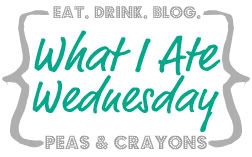 I won't show you breakfast because I'm sure you can guess what it is. If not, see this post (egg whites, sugar free jam and my favorite bread).
I scarfed down a Clif MOJO bar in between Strollerwise and the gym to teach my BOSU class.
I love these bars. I have every single flavor they make.
After a short treadmill run and my BOSU class at the gym we had some Green Chia Cookie Monster Dough Dip for lunch again.
We sure know how to not waste any of this stuff.
Who the heck taught that guy to lick the bowl?
Once the boys were down I ate mine. Let me just tell you it was the best lunch ever. I took that Dark Chocolate Frosting and mixed it in with my dip.
I also added a big glob of a mix of peanut butter and Trader Joe's almond butter.
Oh yes.
Here was my spread complete with Flatout cinnamon crisps, an apple and a Coke Zero.
It made the fact that it took almost an hour for the boys to actually nap a little more tolerable.
Yep. Nap shmap. Whatever.
I ended up making a different dinner for everyone last night.
The boys got this.
I just added the broccoli slaw in the water the last three minutes when the noodles were cooking. I added a couple Laughing Cow cheese wedges also to make it a little cheesier and creamier. Oh and yes, I took that first picture with Kitty's butt in there on purpose.
You're welcome.
STUFT Daddy got this that we found at Costco recently. Super easy to prepare
not easy to photograph.
He said it was pretty good, but rich and should be served with another entrée or veggie (and he knows his stuff).
I had my usual roasted broccoli slaw for dinner (with marinara, chicken, fresh basil and a cheese less sandwich). Since I had a couple one comment on here that said it's okay to keep posting pictures of it here you go.
Dessert was Katie's ice cream again mixed with half of a frozen banana (thanks for the tip). No picture.
And well, while I'm sure I can bore you with more rambling, this just happened.
I'll give you one guess who's at fault. Ugh. And he better not blame his flat friend. Beavis.
Can I fix it?
Oh and here are the winners of the SunButter coupons.
#20- Kari
#14- kristi @ sweetly fit
#15- Lindsay @ Lindsay's List
#19- Brittany @ GOtheXtraMile
#13- Beth (and I still owe you one from before)
#17- Heather @ Better With Veggies
#28- Kathy
#24- Ashley @ My Food 'N' Fitness Diaries
#23- Megan S
#6- Kerry @ Totes my Oats
Email me your address (stuftmama@stuftfitness.com) and I'll get your coupon out to you. Hopefully in the next day or so before it expires. Ha ha.
And…….
These guys are up so it's on. It's on like Donkey Kong. They wanted to say "hi" and make me smile even with a missing laptop key.
Hope they made you smile too.
Gotta jet. Mommy time.
I've got a treadmill run and a trip to Costco on the schedule for the day.
What do you have going on?
Anyone know how to put a key back on a laptop?
See you tomorrow hopefully with a round up of some of our favorite products as of late.