You like that? Me either, but it's that kind of a morning.
I'm still feeling a bit under the weather so I decided to forego my alarm today. Instead I woke up to Judah telling me that he has poo poo and we needed to go outside to clean it up. That's never a good thing and he was right. But hey, we did just that and now we're moving on with our day.
So it's Wednesday again. Just in case your dying to see some things I ate yesterday and because I need a reason to crash my friend Jenn's party, here a little What I Ate Wednesday action.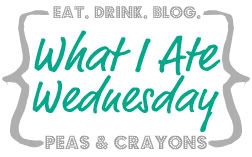 You saw my morning mocha yesterday with the sugar free syrup of choice.
Breakfast was the same as usual.
Mama's Breakfast STUFTwich
I've been using sugar free apricot jam to try to change things up a bit. Ha ha.
A MOJO White Chocolate bar was consumed about and hour later.
After a treadmill run and teaching a BOSU class at the gym, I scarfed down an apple and this big bowl of pumpkin protein cookie dough with chia seeds straight out of the ginormous peanut butter jar from Costco.
Yep. That dough is making a comeback. I had to take a break for a few days, but it's back. I had the original protein cookie dough the other day too.
Good stuff.
STUFT Daddy spoiled me rotten yesterday and took the boys to Tutu's house for swimming and dinner while I made a dent in the piles in my office. The highlight was finding a $100 check that I hadn't cashed. Gotta love that.
I pretty much kept snacking while I worked all afternoon with some Trader Joe's Wasabi seaweed snacks and a Flatout rolled up with a little Smart Balance Light and cinnamon and Splenda.
I also remembered that I love this Good Earth Original tea. It pretty much makes the best iced tea ever and doesn't need any additional sweetener or anything.
I use a combination of a packet of each.
Dinner was broccoli slaw BBQ bake with some roasted zucchini added into the mix.
Topped it with some Costco chicken, Scotty B's sauce and some of that huge jar of BBQ sauce that I'm pretty sure will last us until next Christmas.
Dessert was two (yes, two- I'm making room in my freezer for when my next order comes this week) Chocolate Mint Vitatops
with Katie's ice cream, some 30 calorie dark chocolate frosting and some expired sprinkles.
Random thought-
When I was eating this huge dessert last night which was about 300 calories or so, I thought to myself how awesome it was. I love dessert, like LOVE dessert. I can pile them (by them I mean HUGE desserts) in like no other. My sister-in-law once told me that should be me "talent" for a family talent show. You know, eating my big plate of three desserts. With this whole new non dairy thing I've had to make quite a few changes, but I love the fact that I can make my own dairy free, lower sugar and fat versions at home for about 1/5th of the calories. I feel so much better.
Don't get me wrong, I still splurge here and there. In fact the other Friday night I had about 3 desserts at a BBQ at my parents' house, but for the most part I try to stick to my own creations. I love the whole 80/20 rule.
Moving on.
Let's talk wraps.
I pretty much have a Flatout wrap for lunch everyday. Now that we seem to have Judah's digestive issues under control a bit (with the exception of this morning), the boys have them too.
Really you can wrap up anything.
The boys usually like the basic turkey and cheese wrap (pictured here with some sweet potato Pop Chips and hummus)
while I like to make mine as big as possible.
My favorite is my BBQ roasted tempeh wrap, but I've been changing it up lately.
Here are some others I've been chowing down.
Costco rotisserie chicken, a fresh jalapeño, BBQ sauce and romaine.
Turkey, hummus, spinach and broccoli slaw.
This Roasted Red Pepper and Artichoke Tapenade from Trader Joe's makes a really good dairy free wrap spread also. (Don't mind my dirty thumb.)
I put it with turkey, spinach and some Scotty B's Garlic hot sauce.
The other day I also had to put my other new hot sauce to use that I got at the street fair.
I put this Scotty B's Sweet Bacon Jalapeño sauce on my turkey wrap with romaine and jalapeños.
I don't even like bacon, but this sauce was pretty darn tasty.
Oh man, I don't mean to toot my own horn or anything, but I can fit a lot in a wrap.
You know what else you can wrap?
Goo.
That's right. Goo.
This was inspired by my friend Sara. She's not only super funny and a genius, but she loves reality TV just as much as I do.
Peanut Butter Protein Goo
2 tablespoons PB2 (12 grams)
1/2 scoop vanilla protein powder (10 grams)
2 tablespoons unsweetened applesauce
sweetener packet (if needed)
Mix all ingredients together.
Take some crappy pictures to try to make the goo look appetizing.
Wrap it up, eat it with an apple, put it on a pumpkin microwave muffin or have it on some brown rice cakes.
I like to combine mine with some real peanut butter also.
and add either some cinnamon and Trader Joe's chocolate coffee sprinkles
or some homemade chia berry jam.
This stuff is about 90 calories depending on the protein powder you use. I like using unsweetened ones and then sweeten it myself if needed.
Yep. This stuff is GOO-od.
I prefer it in a Flatout over the rice cakes, but I figured we had enough wrap pictures in here.
I might have to make STUFT Daddy try this one.
Okay. I'm off to get these guys some breakfast and figure out what kind of fun we're going to have today and when I'm going to fit in my last semi long run before the Rock 'n' Roll marathon next week. Yikes!!!!
I've got a really awesome giveaway coming up tomorrow!!!
Woo hoo!