Happy Thursday!
The boys really wanted to do another guest post today, but they're at preschool. Only three more days left and then it's officially summer which means less work time and more family time. I'm pretty pumped.
I got on the treadmill for a run this morning. I thought about sleeping in, but realized I had gone to bed at 9:30 pm last night and had already set out my running gear so I rolled out of bed. Plus I had the last couple Sex and the City episodes to watch.
I planned on watching two, but heck, you can't watch the first part of Carrie in Paris and not the second. So I hung in there to finish it since my legs were feeling pretty good.
Yeah, I've seen this at least 6 times, but I still cry when Charlotte sees her baby. I'm sure I'm not the only one, right?
To kick off this whole show and tell post, I thought I'd show you my favorite workout towels.
Yep. Baby bath towels from when the boys were little. My favorite.
Ha ha.
The boys got to meet their new baby cousin Charlotte the other day.
It was Joaquin's first time ever holding a baby. He was so proud and did not want to put her down. It was precious and she is adorable.
And now he wants a baby at home that he can take care of. Hmmm…… not sure that's really in the cards for us here.
Moving on.
Yesterday STUFT Daddy made a special appearance at preschool with some of our animals.
He even brought some cool eggs. Do you know what kind of bird any of these are from?
Yes, we have a secret animal life. Lots of animals over here.
Our favorite snack combination lately around here has been very simple- an apple with SunButter and cinnamon.
Speaking of SunButter, I'm still on my whole SunButter and blueberry sandwich kick as part of my breakfast lately. Someone asked me about the makings of my sandwiches the other day so thought I'd show you.
Here how they go down. I assemble the sandwich with SunButter (or nut butter of choice), cinnamon, blueberries (fresh or frozen) and usually some chia in there too.
Put the top on and put it in the sandwich maker.
Viola.
If I'm being honest, very rarely do I eat just one. I usually make an additional one with a Flatout wrap too.
This is from this morning.
It was my second course after my usual egg scramble that happened a little like this.
Mmmm hmmm…
Chicken apple sausage from Trader Joe's, spinach, egg whites (I just got two new huge jugs yesterday) and my favorite Scotty B's sweet bacon jalapeño hot sauce. Delightful. I always have to start my mornings with some kind of eggs.
Yesterday I tried the same combo in STUFT egg-rito form on the road.
It was messy.
I should also show you this.
This was my last sweetener free roasted kabocha I made a couple weeks ago. I haven't had kabocha since. I don't know why. I just haven't been wanting it. Weird how things change. Once I started eating grains and bread again on a daily basis, I just stopped craving kabocha.
I wish I could explain it better. Who knows, maybe I'll start wanting it again soon, but I'm a pretty happy camper without it these days. I think it's given me a little more time in my day (it took forever to cut those suckers up) and a little extra cash in my wallet (at $.99 a pound they were adding up).
So, we're broken up for the moment. Not sure how long the break up will last, but felt like telling you about it.
Two more things.
We got this new Be toothpaste from Crest to try out.
They're introducing these new "unexpected" flavor combinations. I feel like the word "unexpected" pretty much sums up my life. Ha. Everything from my races to my eats are unexpected combinations.
Not only are we going to use these new toothpaste flavors to remember to brush our teeth at least two times a day (a little something we're working on with the boys), but to help us be a little more creative and adventurous this summer.
We're going to be all about getting creative and doing the staycation thing.
By the way, I just tried the lime spearmint zest Crest Be flavor and it was fabulous! A good toothpaste is key after drinking lots of coffee, yes?
Oh, want to see our #BeUnexpected picture we're going to share?
Ha ha. Yep. Don't judge.
One last thing while we're talking adventure and such.
Mizuno just came out with a brand new trail shoe. Check it out.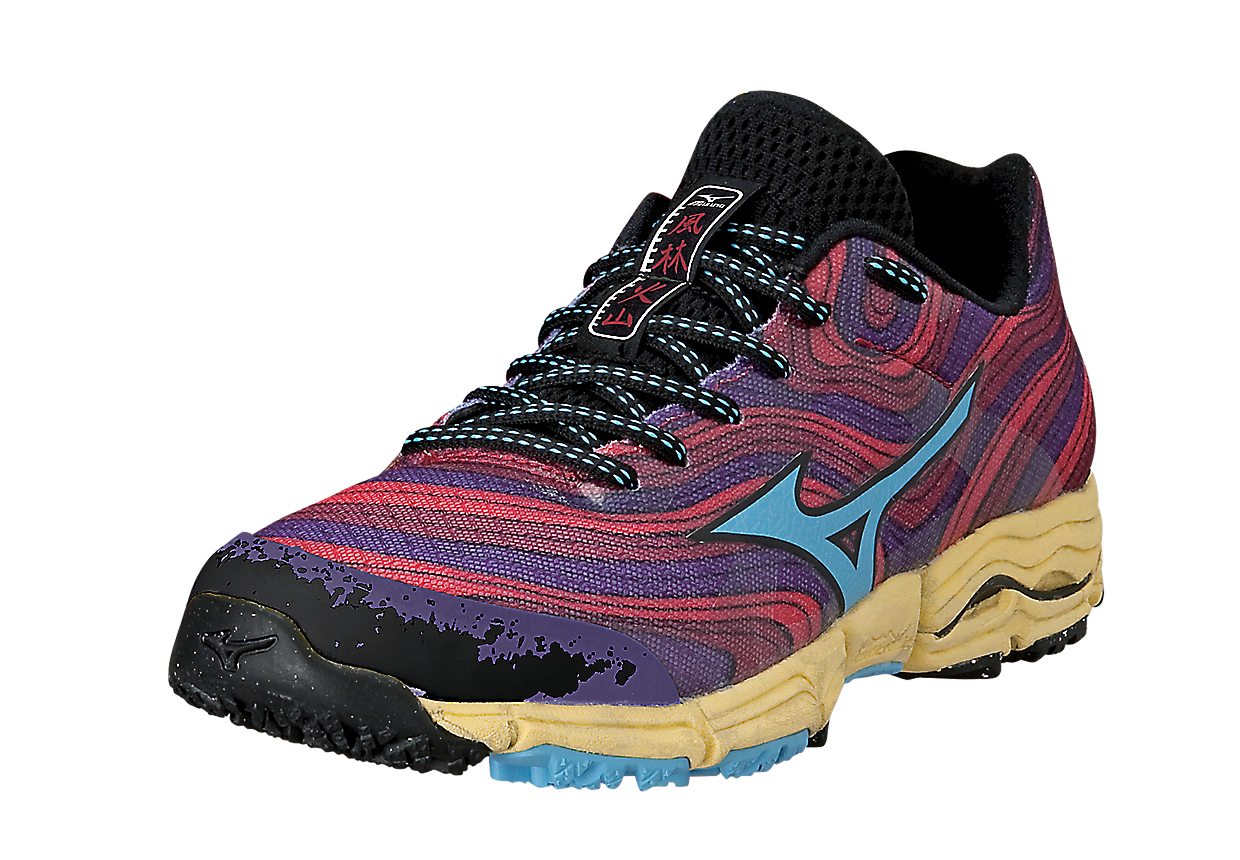 [source]
It's the Wave Kazan. I have a pair on the way and can't wait to try them out. I'm on a search for a newbie friendly trail. I've never been into trail running but have always wanted to dabble a bit.
Hey, if the shoe fits…..
Ha.
For all you trail runners out there, Mizuno is having a really cool Take to the Trail contest on their Facebook page.
Here are the details:
Fans of the Mizuno Running North America Facebook Page can upload a picture of their "Favorite Trail Experience" on our "Take to the Trail" tab on the Facebook page. Fans can only upload one photo. Photos can be uploaded until Sunday, June 8th at midnight, EST.
After the submission period ends, fans can vote for their favorite picture through June 20th at midnight, EST. The (3) pictures with the most votes win a pair of Wave Kazans!
I know some of you have some awesome pictures to share. Mine are all on the treadmill. That's just not as exciting sometimes.
I'll get more information on the shoes and a review once I get them and get to take them for a run.
So much for shorter posts with less pictures. Guess that's just not my thing. Maybe I should make that my #BeUnexpected challenge. Ha ha.
Here's a fabulous reminder from my friend Jody who inspires me everyday. She posted this in Instagram the other day and I just love it.
Right?
Such a great reminder. I think we're all guilty of wanting more at one time or another, but if we just take the time to sit back and appreciate ALL the things we HAVE right now, we realize we have a lot to be thankful for.
*I'm required to disclose a relationship with MSL Group Oral Care Influencer Network. This could include being provided w/ content, product, access or other forms of payment.
Have a good one.
Anyone know what kind of bird eggs in that picture?
What's your favorite tooth paste flavor?
Any trail runners out there?