Okay friends.
It's Monday night. I don't know about you, but I could've used a little motivation earlier today. That's always the case on Mondays though, right?
And….what's more motivating than talking about running shoes and such?
I did a quick 5 miles on the treadmill this morning.
I couldn't wear my new Wave Sayonara 2 shoes since they were still a little wet from yesterday's sweaty run. Oops. I need to do something about that. I think newspaper or dryer sheets work, right?
We were, however, all successfully dressed and out of the house by 6:45 am. That's pretty impressive for us. I had a follow up prolotherapy appointment. I can't believe it's been a year since the whole hip dysplasia thing. Crazy.
I got back just in time to whip up this egg white scramble over spinach and answer a million and one "but Mommy, why?" questions. The boys were on fire today.
I followed that breakfast salad type thing with some sweetener free roasted kabocha.
I haven't had it in forever, but I was craving it and happen to have one in the pantry from a couple weeks ago. Maybe it was the prolotherapy appointment that brought back memories of the countless roasted kabocha boats I ate last year.
I was curious to see if I was going to fall back in love with the whole squash thing.
I didn't.
Weird. It was just "eh". I mean it was good, but nothing exciting and I don't even have the desire to go buy another one. I'm saving some serious dough these days. I am counting down until those purple sweet potatoes come back in season though. Now those are really something else.
I've fallen in love with this new Just Great Stuff powdered peanut butter though.
It has the same nutritional info as PB2, but is made with organic ingredients.
It mixes really well with unsweetened almond milk and I've been using it in a new version of healthy cookie dough dip that uses a date as the sweetener. Yeah, good stuff.
I'm planning on getting the recipe to you later this week since the boys like it too.
Random, but the tortoises were out today. I'm pretty sure they were moving faster than I was all day.
I really could not get it together.
Some highlights of our day were the car wash
and a stop at Subway for lunch for everyone.
Before we get into a little shoe chat, here's a super funny running video that Michelle sent me.
Good stuff.
"Help your kids find a different hobby other than distance running. Like video games, diabetes, etc."
(If the video doesn't work, you can click the link here.)
Oh and here's some new Pro Compression news you should know. They have a bunch of new products out and you can save 40% and get FREE shipping with the code NEW.
They have the grab bag special going on too with calf sleeves. I just checked and they still have a few left, but last time they sold out quick.
You can still use the code LEG also for the discount on the leggings also.
Okay, so let's talk the new Mizuno Wave Sayonara 2. The official launch date was July 5th so I'm only about 10 days behind. Oopsies.
These are very similar to the first version with just a few minor improvements.
Obviously they're awesome looking. One funny thing I noticed right away is that the shoelaces are shorter than the original Wave Sayonara shoes. I'm not sure if that's with all pairs or just because the ones that were sent to me were before the release date last week and were a sample shoe.
I actually like the shorter laces because you only have to tie them once and they don't flap around or anything. I also love that the laces are black and pink. I'm just not a fan of light colored laces. They get too dirty too fast.
It was a little over a year ago when they came out with the original Wave Sayonara. I reviewed those here.
I've been racing in Sayonaras exclusively since November. They are the perfect mix between giving enough support, yet also being very light.
This new version has a few upgrades.
KEY FEATURES:

New refined fit includes a more harmonious midfoot wrap with softer, more breathable mesh materials throughout the upper, while still providing support in all the right places.
Ultra-responsive, lightweight U4ic midsole and Parallel Wave in the heel deliver a smooth, cushioned ride.
A wide forefoot, full-ground midsole and 10mm ramp give the Wave Sayonara 2 a stable, fast ride that's incredibly light, yet durable, at 8.0 oz. (6.6 oz for the women's shoe)
New sockliner provides increased resiliency and responsiveness.
The Running Warehouse Blog has a great review of the minor changes complete with a short video.
In addition to talking about the more accessible fit, they mention a graphic change where you can now see hands waving "goodbye" along the overlays on the midfoot and toe box.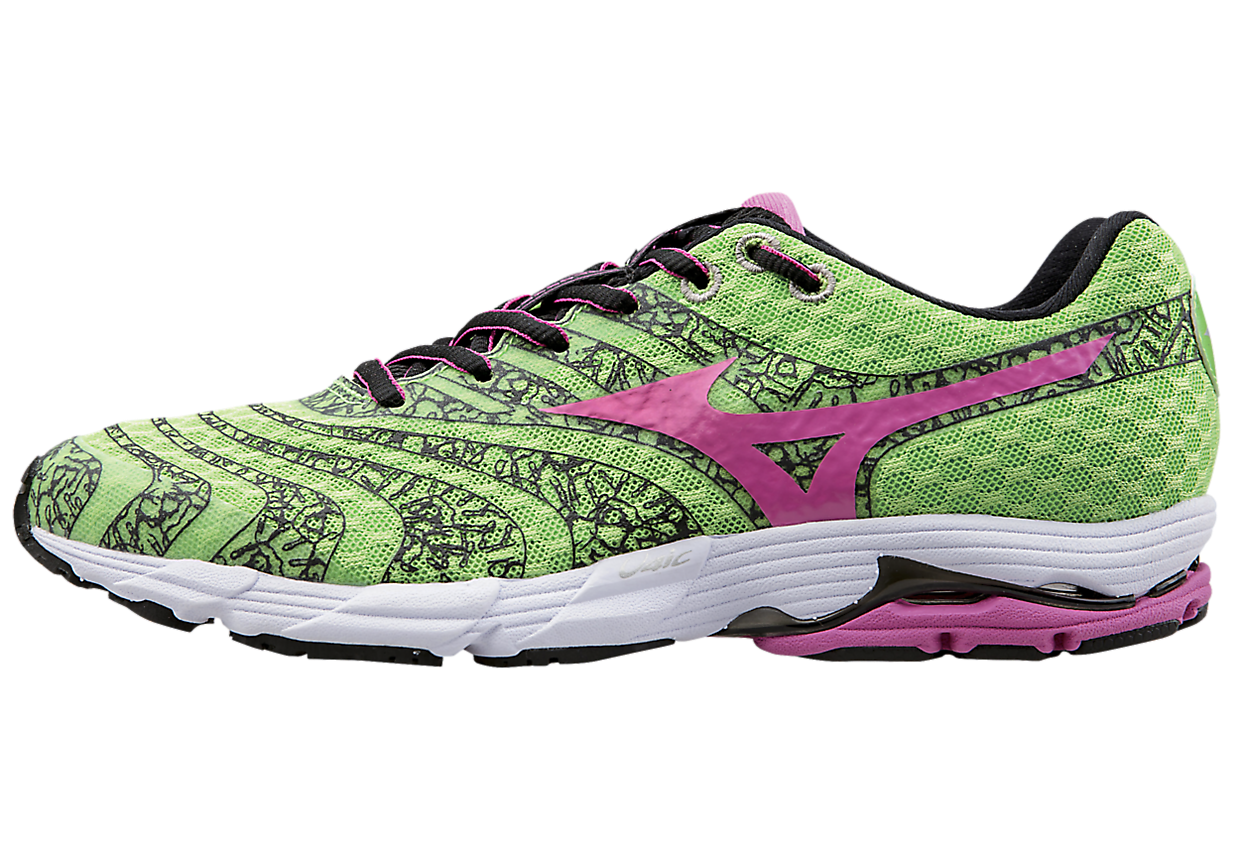 [source]
Not sure if it's just me, but I can't see any hands waving. Can you?
There's another short video on the Mizuno website here highlighting the minor changes. This shoe is a great one for races and/or for fast training. It seems to work well for the neutral runner and runners who need just a little stability like myself.
So far I love them. I've run in them for a couple weeks now and only on the treadmill, but I'm already a fan and plan to run my next race in them.
I do notice that the fit is a little better. It's more form fitting without being restrictive. I also like that they're even a bit lighter than the first version. I pronate so I have to be careful with the lighter shoes, but these seem to give just enough support that I need for races and treadmill running.
I haven had any issues with them being uncomfortable or random hotspots or anything. I notice the minor changes in the fit they made with a better midfoot wrap and less seams so it has a more socklike feel.
Overall, they are just the same great Sayonara shoe, just a tad better. Pretty much just what was expected. Mizuno does it again.
I plan on putting quite a few sweaty miles on these bad boys.
Yes, yes I do.
Other Mizuno news you should know:
They have NEW COLORS of the fabulous Wave Inspire 10 shoes (as well as quite a few of their other shoes). These Jazzy-Sulfur Spring-Silver ones are on my wish list!
[source]
I mean, right?
Speaking of Wave Inspires, they have the 9s on sale on their website in the Running Outlet section along with some other cool deals on shoes and gear.
Okay, I am off to bed so I can be up and ready to put a few treadmill miles on these shoes in the morning.
Hope you had a great start to your week!
What was the highlight of your Monday?
Shoe laces- do you like dark ones or light ones or do you not even care?
Can anyone see the waving hands in the shoes design?
What shoes are on your wish list?