It might just be your lucky day since my pictures on my camera aren't uploading to my computer at the moment. I'm sure you're still on picture overload anyway from the whole race recap post. I think I may have a picture taking problem. Ha ha.
Quick reminder that there are only a few hours left to enter the NuttZo Single Serving Packs GIVEAWAY. The winner will be announced tomorrow here on the blog.
Beavis, technology issues really chap my hide friends. Sorry, just had to get that out there. You'd think I would know something about computers and tech stuff with my line of work, but unfortunately I do not. Anyone else know all about Dropbox? I could use some help.
We'll just go with what we have on here for the time being.
Let's see, I didn't run at all on Monday. I thought I might do a few miles, but I didn't. I went on an impromptu walk with Mom and the boys instead and taught my classes throughout the day.
Yesterday I felt extra motivated for some reason and got up really early to get on the treadmill. I decided to change things up and run an actual course. I ran the same course that I ran my half marathon PR on a couple years ago.
It was definitely weird watching the course and running it on the treadmill. Brought back a lot of memories.
It went by rather quickly though.
Probably because I was watching the cute movie Blended at the same time.
Yep. I'm back to light-hearted romantic comedies for running since I finished the first season of The Mindy Project.
I forgot to tell you about this cool place we went out to eat before the race Sunday. I had a little bestie date with my girlfriends in LA.
We went to this make-your-own pizza place called 800 Degrees.
Um, make your own pizza and pick any toppings you want? Yes please.
I'd heard about these cool places before, but had never been to one. You better believe I was high maintenance with my order.
I don't remember exactly what I had him put on my pizza because I kept just adding more and more, but I must not have been too bad because he was still smiling. Ha. I do know there was garlic, basil, artichoke hearts, olives, tomatoes, jalapeños and mushrooms.
The pizza was delicious and now I'm a a search to find more of these cool places around. I think we have a few here in San Diego so I better find them.
Speaking of pizza, I'm going to NEED some good pizza recommendations for New York. Feel free to start sending some my way.
I've been eating some random snacks on the home front. Besides a bazillion Jazz and Honeycrisp apples and my favorite grapes, I've been snacking on some random things.
If you haven't tried the Quest Nutrition protein chips yet, they are definitely worth a try. I like the plain sea salt ones the best.
I thought I was out of all my Quest Bars (and have been for over a month now), but I randomly found one at the bottom of my gym bag today. It was a lemon pie flavor which is not my favorite, but I got into it right away.
These brown rice cakes were opened and gone within just a few days.
They made a bit of a mess in the car, but they were yummy.
Oh man, and these Vega Sport protein bars are just simply the best. You've got to find them and eat them chilled. They will not disappoint.
Mmmm hmm…
Okay, I've got to go, but I just saw this AWESOME Mizuno deal for 20% off your order when you spend $135 from their website.
Might be a good time to stock up on some fall running gear.
Oh and one more thing for you local friends, I keep forgetting since I'll be in New York, but my friend Smitha is hosting a fun ladies night event at Road Runner Sports. There's information here on Facebook, but the invite and all the details are HERE.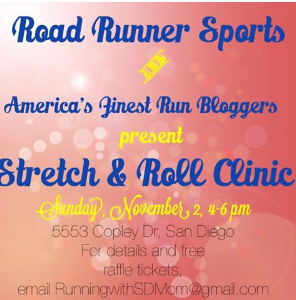 Find out how to foam roll and enjoy happy hour? Sounds like fun, right?
Okay I'm off.
I've got some things to tackle before we carve some pumpkins tonight. Hope you had a wonderful day!
Have you ever been to a make-your-own pizza place?
What are your favorite pizza toppings?
What's a random snack you've had lately?
Can someone tell me how to fix my Dropbox. It used to automatically sync, but now isn't doing anything.